Mensa Gaming PC Table
Model No.
190206
Product Dimensions
Width : 47.25" / 120 cm
Depth : 23.6" / 60 cm
Height : 35.8" / 91 cm
Description
The Mensa Gaming Table is designed specifically for any corner space application. With its ultra-practical and stylish design, the Mensa Gaming Table provides you not only with a spacious working area, but also gives ample room for all your gaming needs. The shelves and tabletop are constructed with a simulated carbon fiber PVC finish, enriching the table with a more modern look. It is configured with an add-on shelf, cup holder, headset wire hook, and bottom shelf for keeping your gaming gear organized. A truly versatile table, there is no doubt this will fit your every need!
Inquiry
Finish Type
Powder coated steel frame for durability Simulated carbon fiber finish on wooden panels for a modern look.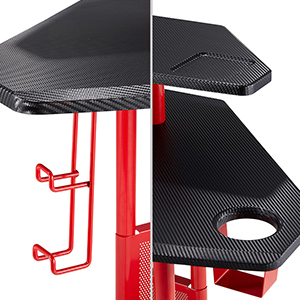 Storage Designs
An included add-on shelf keeps your monitor secure and in perfect view. Thoughtfully designed cup holders for water bottles, drinks or supplies keep you organized and hydrated.
Built-In Power Outlet
A built-in tabletop electric outlet ( 2 USB ports + 1 plug port ) makes a perfect charging station.

PRODUCTS RELATED TO THIS ITEM