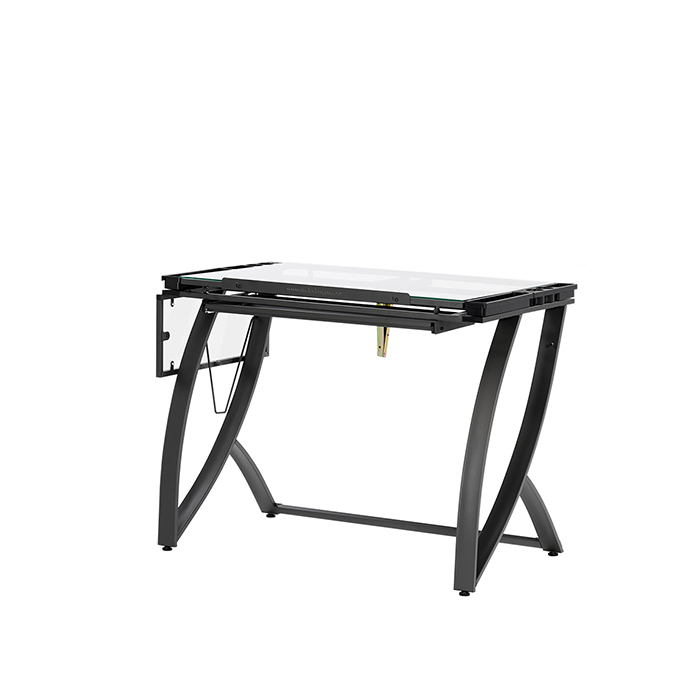 Glass Top Angle Adjustable Architectural Drafting Table
Model No.
C90
Product Dimensions
Width : 50.4" / 128 cm
Depth : 23.6" / 60 cm
Height : 31.5" - 44.1" / 80 - 112 cm
Description
The C90 is a multi-purpose art & drafting tables designed for graphic designers & artists. With its smart adjusting mechanism, the working surface angle can be effortlessly raised from flat to 65 degrees, which also allow you easily convertible to a standing desk. With the flexiable contruction you can freely attache the folding side shelf to Left or Right Side on the tabletop. The four removable side trays offer enough storage space for your various drawing supplies and help you to organize your working surface.
Inquiry
Tabletop
Tempered anti-crash safety glass in a see-through ocean blue color. Balance beauty with function! This table can be also used as a light table.
Tabletop construction
With 4 movable side trays, there is ample storage space for stationery supplies. It also includes a pencil ledge that slides up and locks into place to prevent your kits from falling off while the main work surface is tilted.
Height Adjustable
The tabletop can be effortlessly raised from flat to 65 degrees.
The Foliding Shelf
Can be attached to Left or Right side as you need.
Base Design
The incredibly special leg design is unique in shape and provides structure to ensure the table steady.